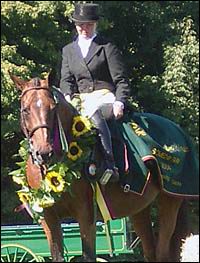 Muffie Guthrie & Nevada
2004 Winners
A day to support cancer care and have a ton of fun in memory of a great guy!
When: October 19, 2019
Attire: Formal attire requested
Entry fee: $100.00
PRIZE MONEY TO 6TH PLACE
for both 3' and 3'6" Derbies :
$500/400/300/250/200/100
Prize money for Beginner 2'6" Derby
to be determined
Ribbons: to 8th place courtesy of Dominion Regalia

Download information & entry form
Format: 2 rounds - numerical score with the top 10 returning for the second round. The first round will be over no less than 14 jumps and will include both open field and sand ring options
Attire: Formal attire requested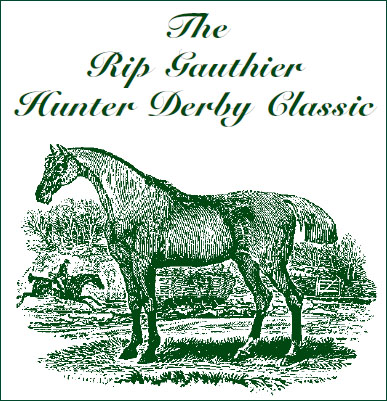 TAILGATE MAGIC
Picnic Party time! Pull out the silver or plastic and put out our spread. Fall harvest abounds and every year the offerings make your mouth water!
If picnics aren't your thing there's always the Rip Roaring BBQ so you won't go hungry!
AWARDS
Stephen McGregor Memorial Trophy Awarded for Best Overall Turnout
Perpetual Trophy: awarded to the high point Amateur competitor
Coolers for both class champions courtesy of Running Fox Equestrian
Kindred Cup: donated by the Guthrie Family in memory of Lorna Guthrie and Rip Gauthier. Awarded to the individual who best embodies their spirit.
Sponsorship Opportunities
Thank you – without your generosity our bottom line to cancer support would be a great deal less. No amount is too small and of course neither is any too large - just give from your heart.
To receive a tax receipt, cheques should be made payable to:
"Headwaters Health Care Foundation"
and notated
"Rip Gauthier Classic"
Let it Rip Sponsor - $1,000
Tailgate Sponsor - $500
Jump Sponsor - $250
Ringside Sponsor - $100
Online Donations: https://www.hhcfoundation.com/Events/Calendar/Rip-Gauthier-Hunter-Derby-Classic